TWR Tapes/Bandcamp: Terminal B Kirkenes
December 15, 2017
Pica Disk: WITCYST "Real Folk: Lathe Cut Singles 1993-1997″ [4xCD]
October 17, 2017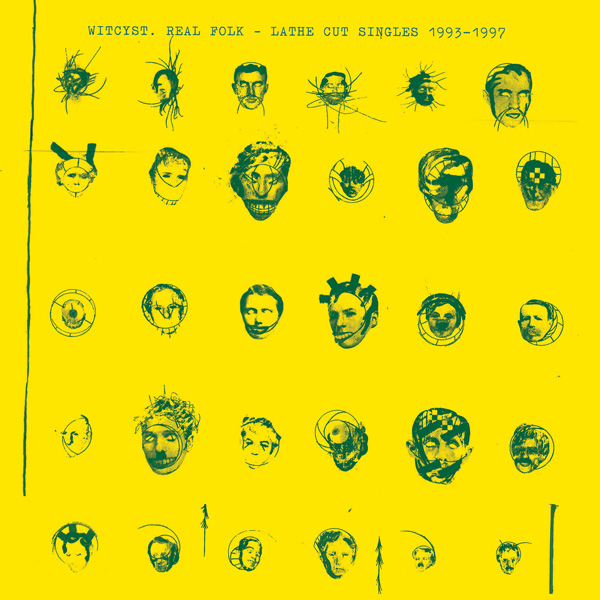 Witcyst: Real Folk – Lathe Cut Singles 1993-1997 [4xCD]
Pica Disk 2017 • PICA039 • Co-released with End of the Alphabet Records
Distribution by Metamkine.
A bona-fide underground legend, Witcyst has been creating completely unique noise music from the isolation of smalltown New Zealand since the late eighties. For three decades Witcyst has been an infamous prol yet mysterious force of the deep noise underground, sharing handmade cassettes, lathe cut singles, CDRs and art objects via the post, but never touring or appearing live.
Witcyst's mysterious career is marked by a complete absence of live performances and a massive prolificness in recordings wrapped in his own hand-made day-glo collaged artworks and assemblages. His music is the freest of free music. Unhampered by arch design or advanced technique, his work stands as an ever-surprising, unmatchable feast for the ears and eyes.
With the release of "Real Folk" Pica Disk and End of the Alphabet hope to break the long-held secret of Witcyst and bring his glorious visions to a wider audience. The 4xCD boxset collects 40 tracks from 20 self-released 7" lathe cut singles from the mid-nineties (all from legendary New Zealand lathe-cutter, Peter King), that were originally released in editions of 10 to 20 copies, so rare most of them have never appeared on Ebay or Discogs. The box-set also includes three booklets of artwork, photos and an extensive first-time home interview of Witcyst himself by Noel Meek.
• 4 CDs > 40 tracks > more than four hours of material
• 3 booklets totaling 72 pages, including first time in-depth interview with Witcyst and almost 100 colour photos and artwork.
• CDs in individual colour wallets reproducing the artwork of each 7" single
• Limited edition of 300 copies
€35 ppd Europe to paypal: mail[at]lassemarhaug[dot]no
€40 ppd World to paypal: mail[at]lassemarhaug[dot]no
Also available from End of the Alphabet (New Zealand)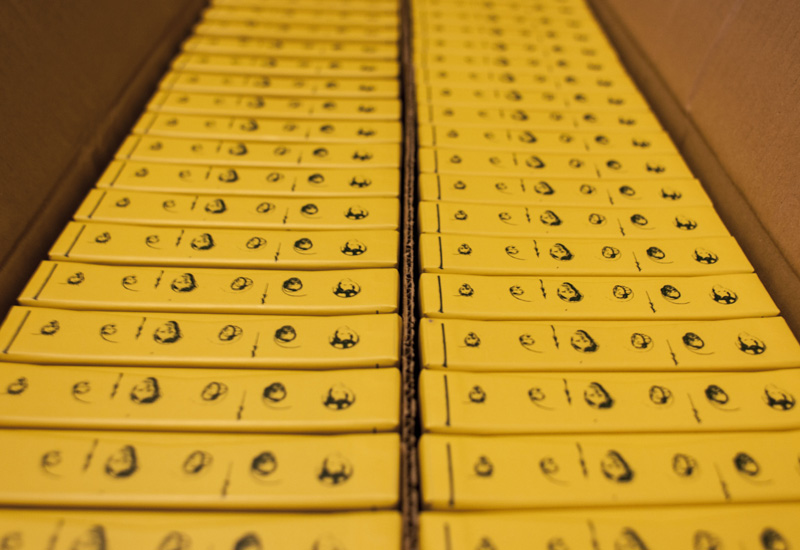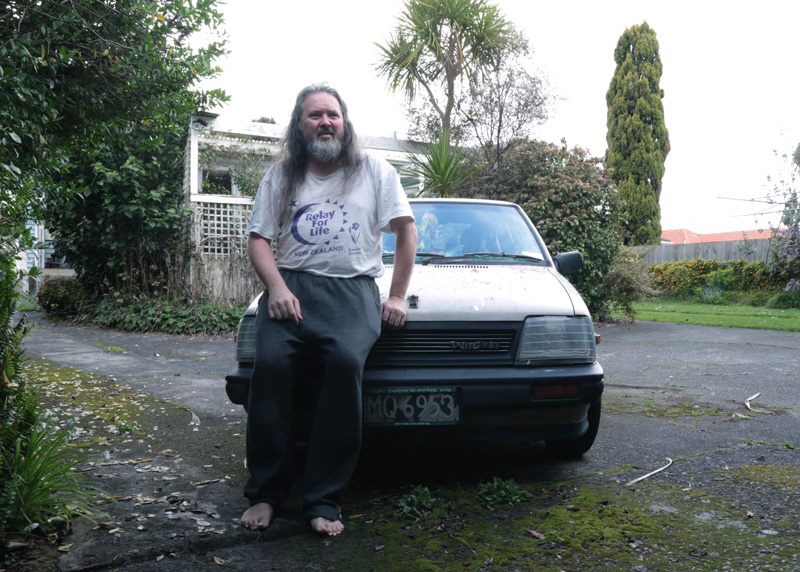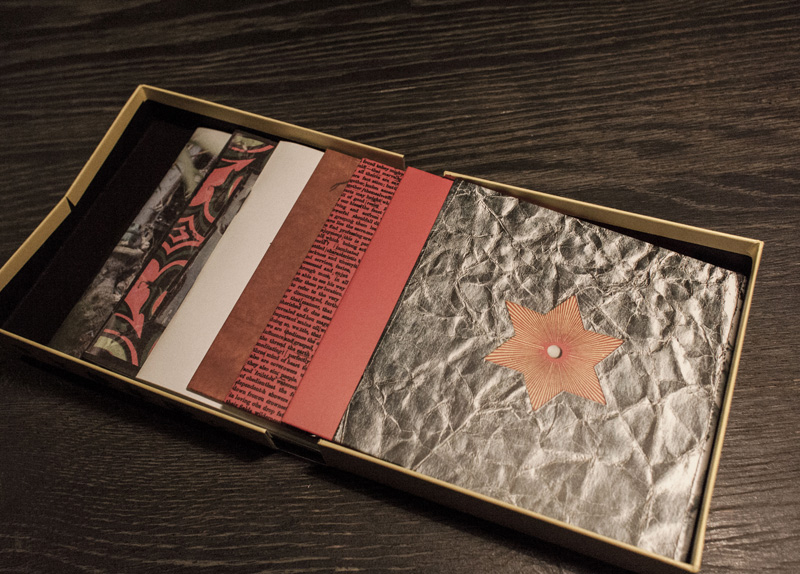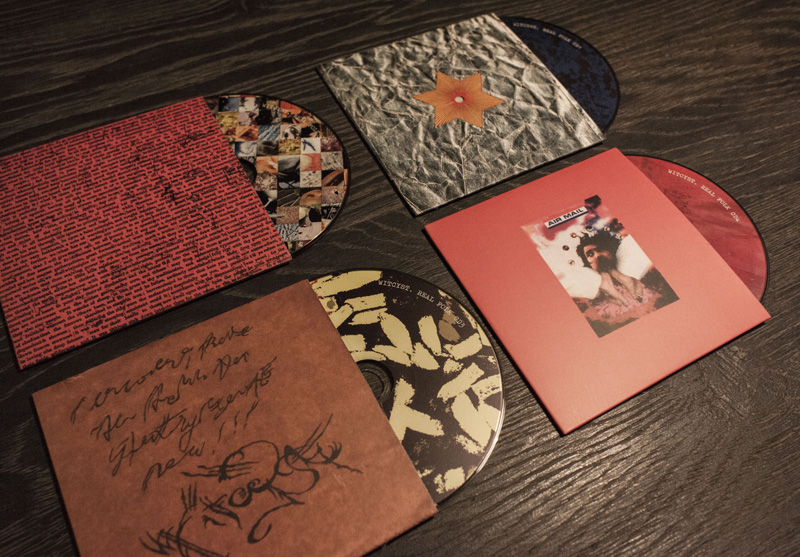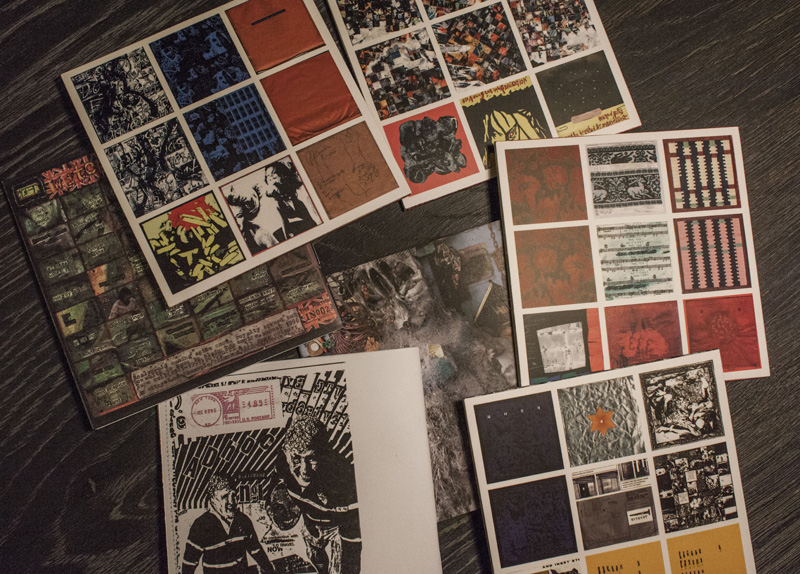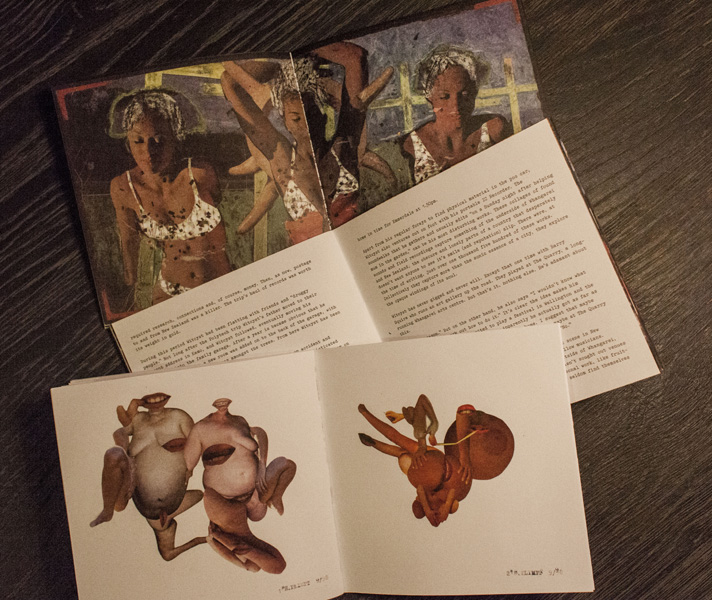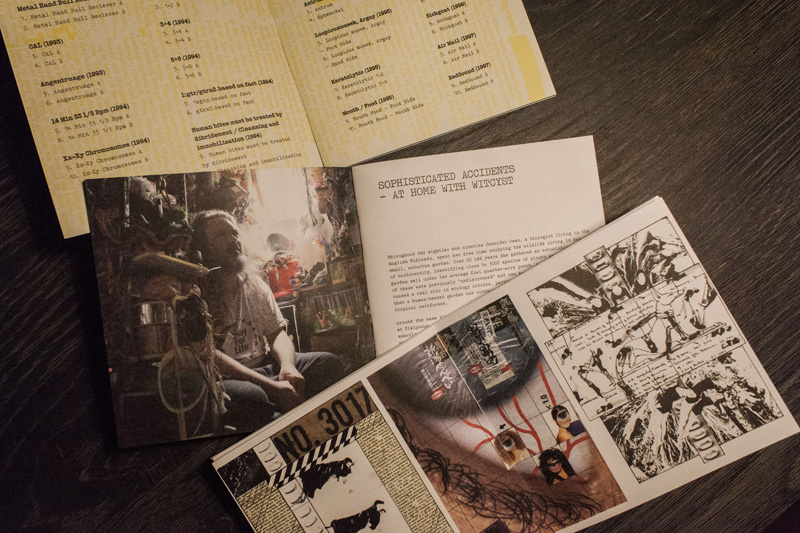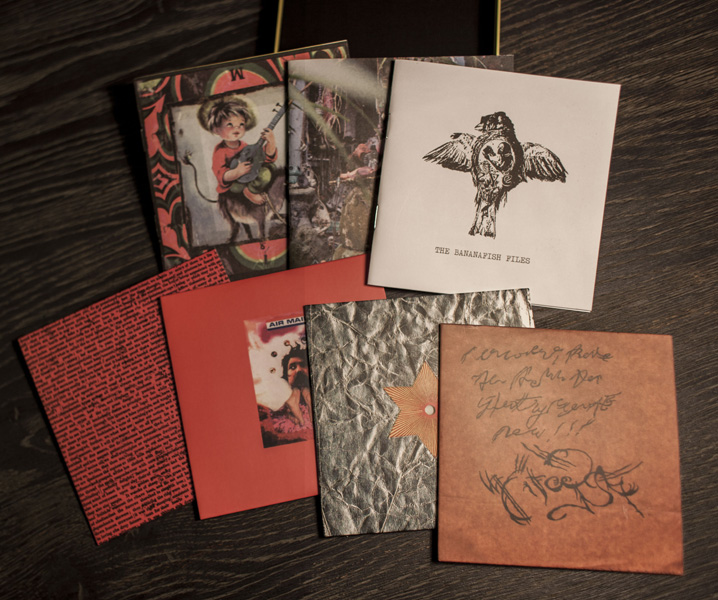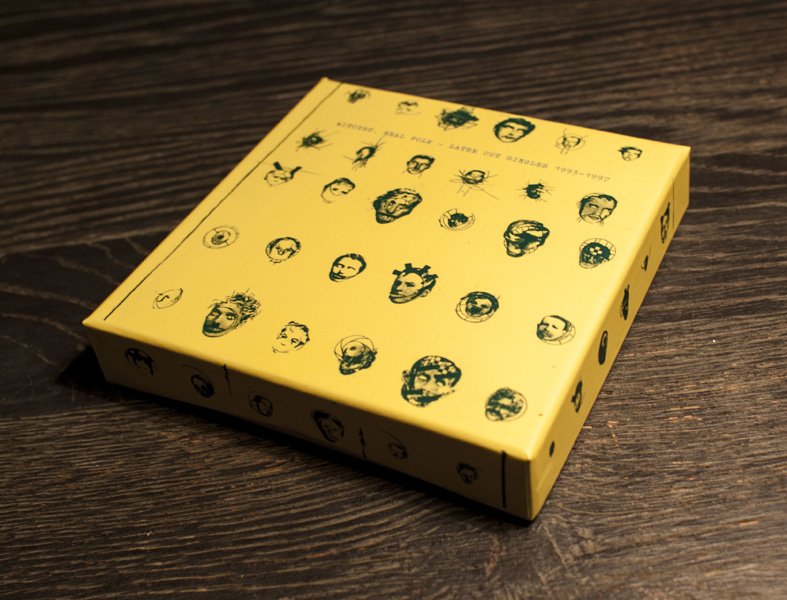 Saltstraumen at Nødutgang
September 30, 2017
Tonight I'm presenting my 8-channel piece "Saltstraumen" at Nødutgangfestivalen 2017 festivalen here in Bodø. The piece uses source material recorded from the Saltstraumen strait just outside Bodø, which has one of the strongest tidal currents in the world. The piece was originally commissioned by and presented at Lampo in Chicago this February. I also did a 4-channel version of in New York at Blank Forms the following week. Big thanks to Ronny Wærnes, Gunhild Normann Christensen and the festival crew for making this Norwegian premiere possible.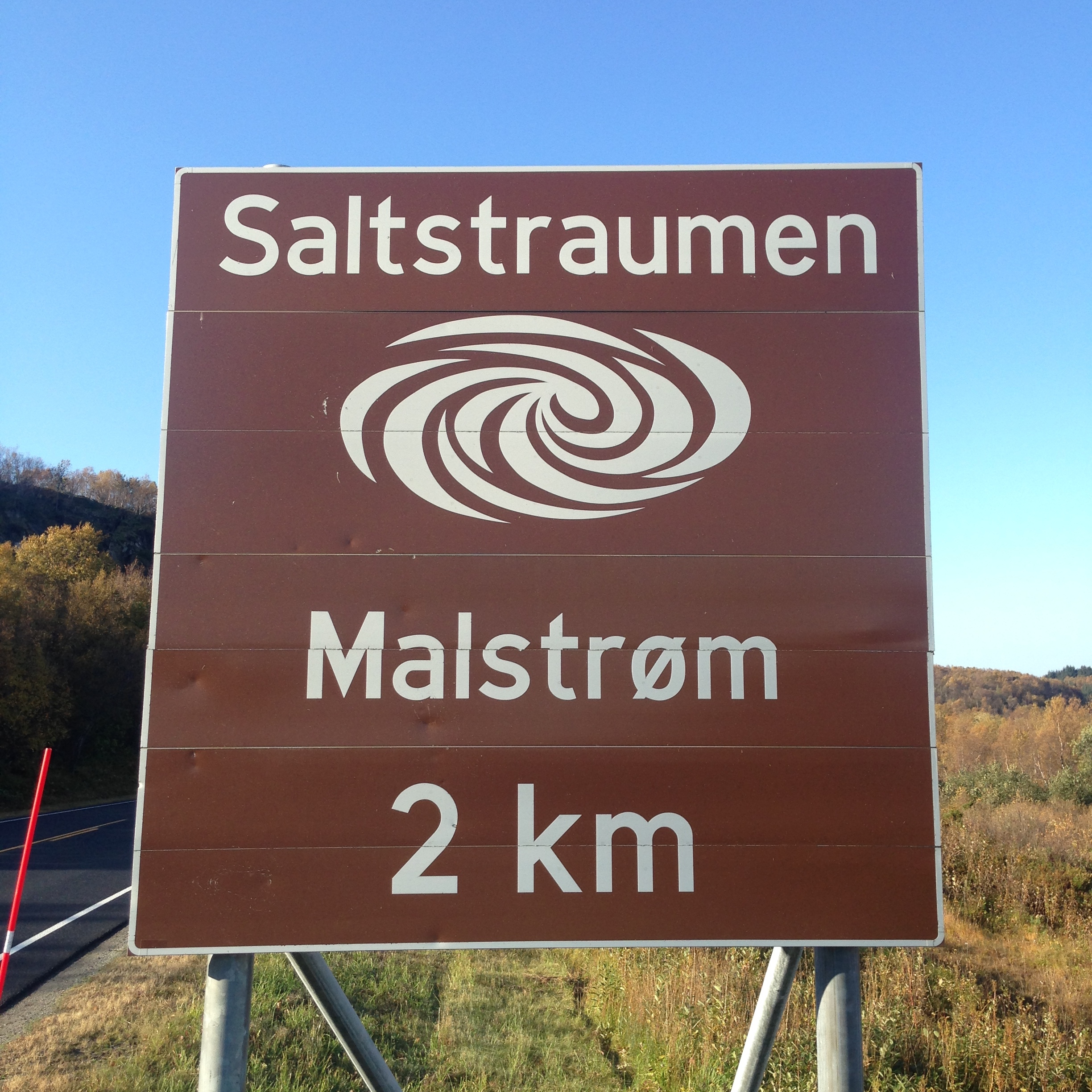 RIP Folke Rabe
September 27, 2017
Sad to hear of the passing of Swedish composer/avant-garde artist Folke Rabe. He did a number of amazing things in his time, but his drone piece "What??" remains (together with Tony Conrad's "Outside The Dream Syndicate" and Eliane Radigue's "Trilogie De La Mort") the pinnacle of long-form/drone music for me. It's also one of the pieces of music I've listened to the most in my time, and the 1997 release on Jim O'Rourke and David Grubbs' Dexter's Cigar label is as close to I've ever come to wearing a CD out. I only met Mr Rabe once, in 2008 at Fylkingen in Sweden, when he presented a mind-blowing four-channel version of the piece. Together with Tommi Keränen I talked to him afterwards and he courteously told us the genesis of the piece (I later found he'd posted a detailed story on his website, no doubt after having fans like us pester him about it over the years). Here's a blurry photo of Rabe from that evening, with his hand in two places at the same time. Another legend gone, but the music remains. Adieu.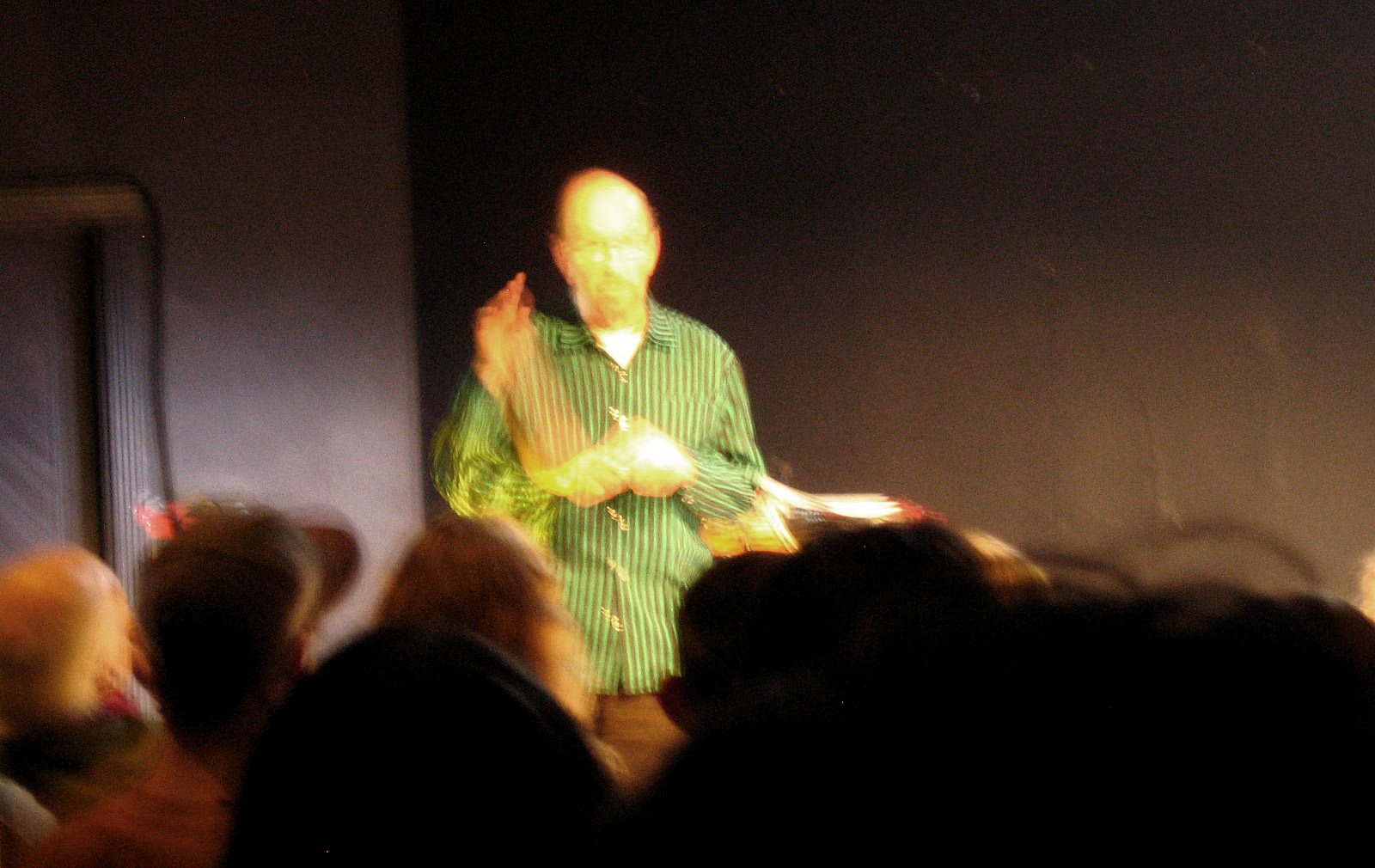 DISCAHOLICS! The book
September 21, 2017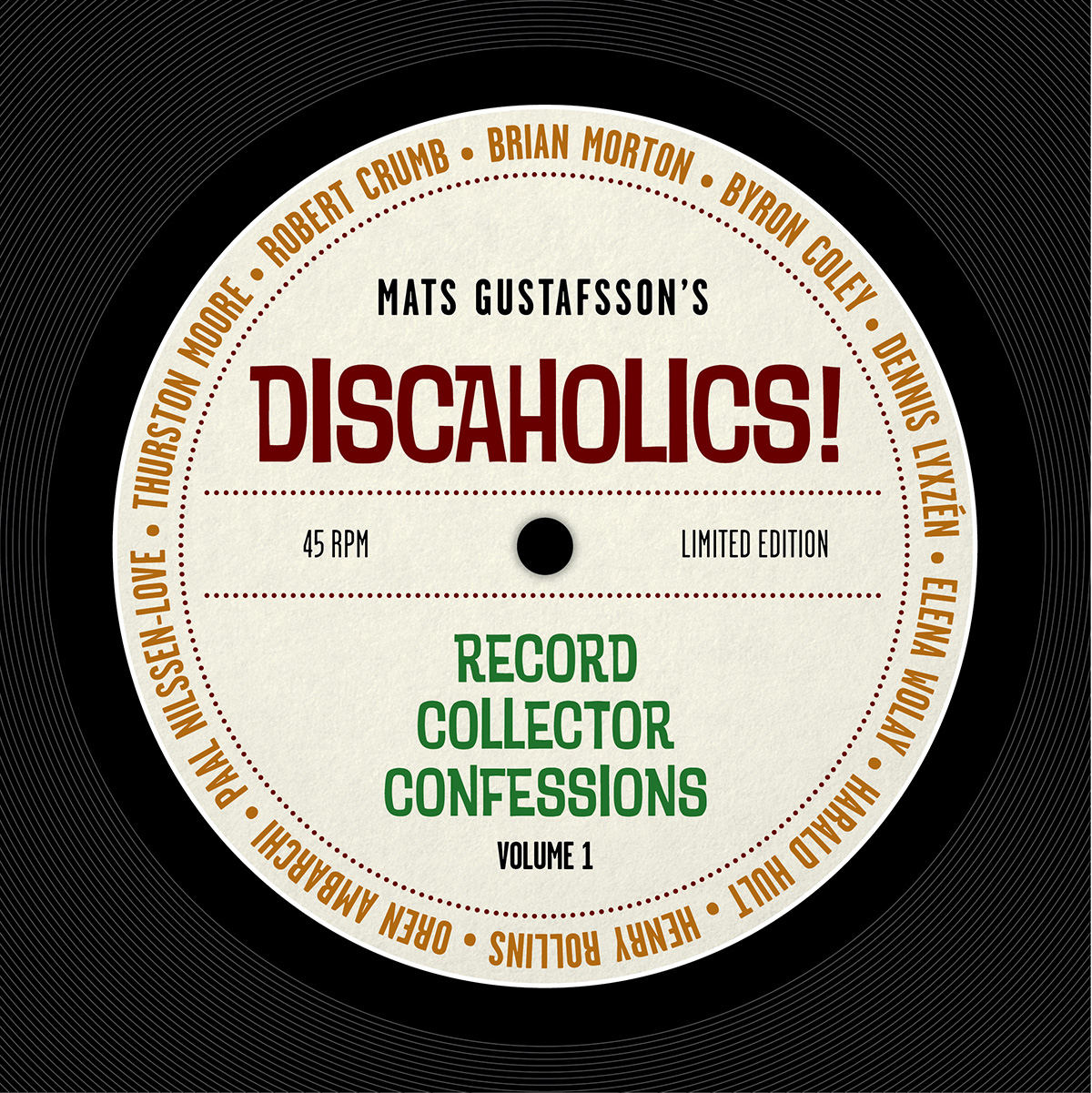 DISCAHOLICS!
RECORD COLLECTOR CONFESSIONS
VOLUME 1
Published November 2017
Format: 210 x 210 mm
120 pages
Colour
Comes with a 7″ single
Limited edtiion
Swedish saxophone player/improviser/ composer/music archivist Mats Gustafsson has worked in the outer regions of jazz, avant-garde, experimental rock and free improvisation for more than 35 years.
Gustafsson is also a passionate record collector who strongly believes that actively nurturing the urge to seek for rare and obscure vinyl is a gateway to higher musical knowledge – a knowledge that it is a musician's duty to share. He has coined the term Discaholism – and on his website Discaholic Corner he interviews fellow artists who have the same urge to spend all their waking hours obsessing about music and records.
This book presents ten selected interviews with artists/record collectors: Brian Morton, Byron Coley, Dennis Lyxzén, Elena Wolay, Harald Hult, Henry Rollins, Oren Ambarchi, Paal Nilssen-Love, Thurston Moore and Robert Crumb.
Also included are 25 TOP 10 lists of Gustafsson's personal vinyl obsessions; an in-depth interview with Gustafsson himself; numerous illustrations and photos; plus a one-sided 7" vinyl single with an exclusive new track recorded 2017, created using elements from Gustafsson's record collection.
I am absolutely a "discaholic." I never heard this term before. Did you invent it? It's totally appropriate. I have it bad.
– Robert Crumb
Order: €40 PPD EUROPE / €50 PPD WORLD (This includes shipping)
Make payment to Paypal account: mail (at) lassemarhaug (dot) no
Please email to the same address to confirm your shipping address.
White Inferno reissue
September 13, 2017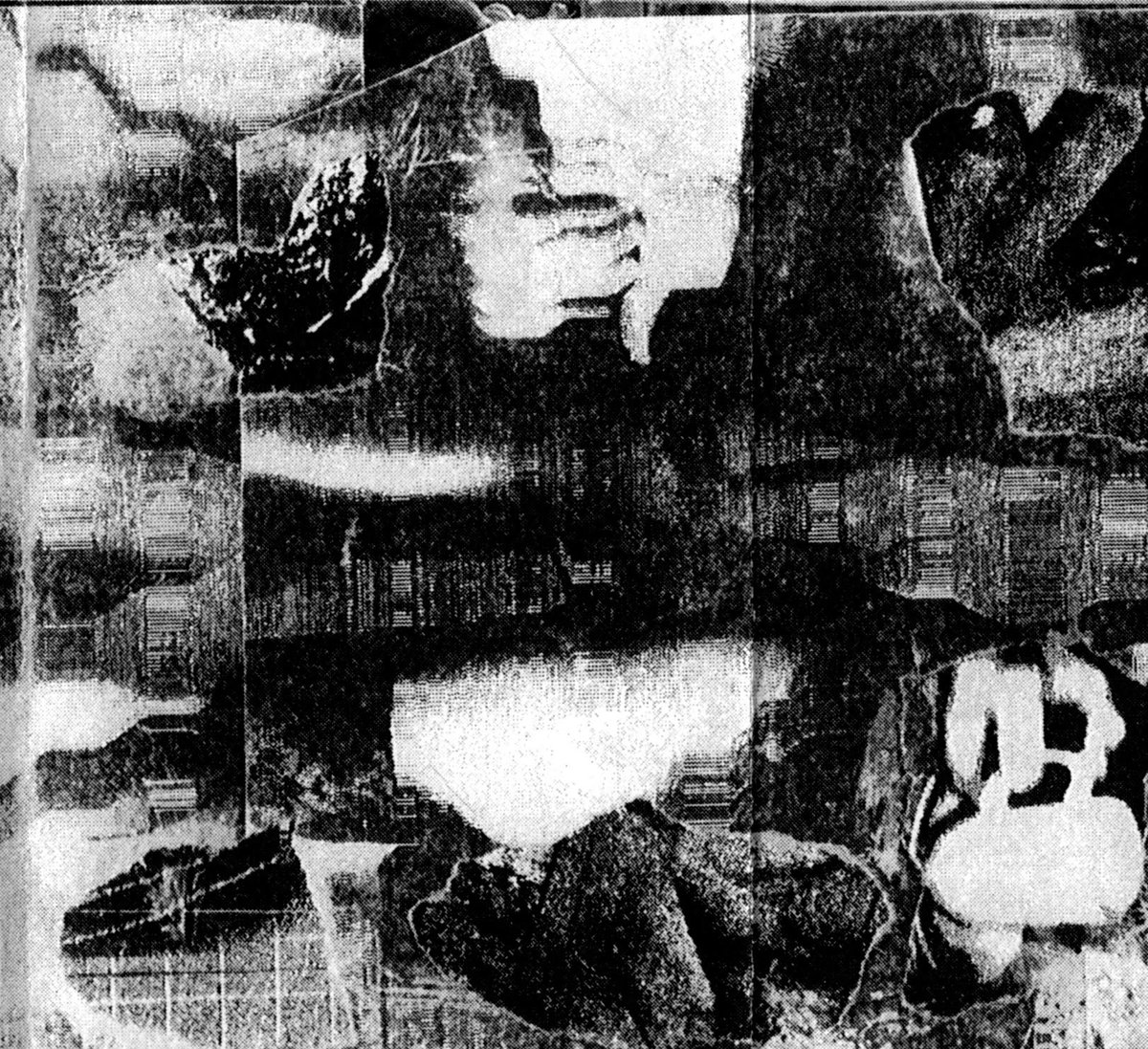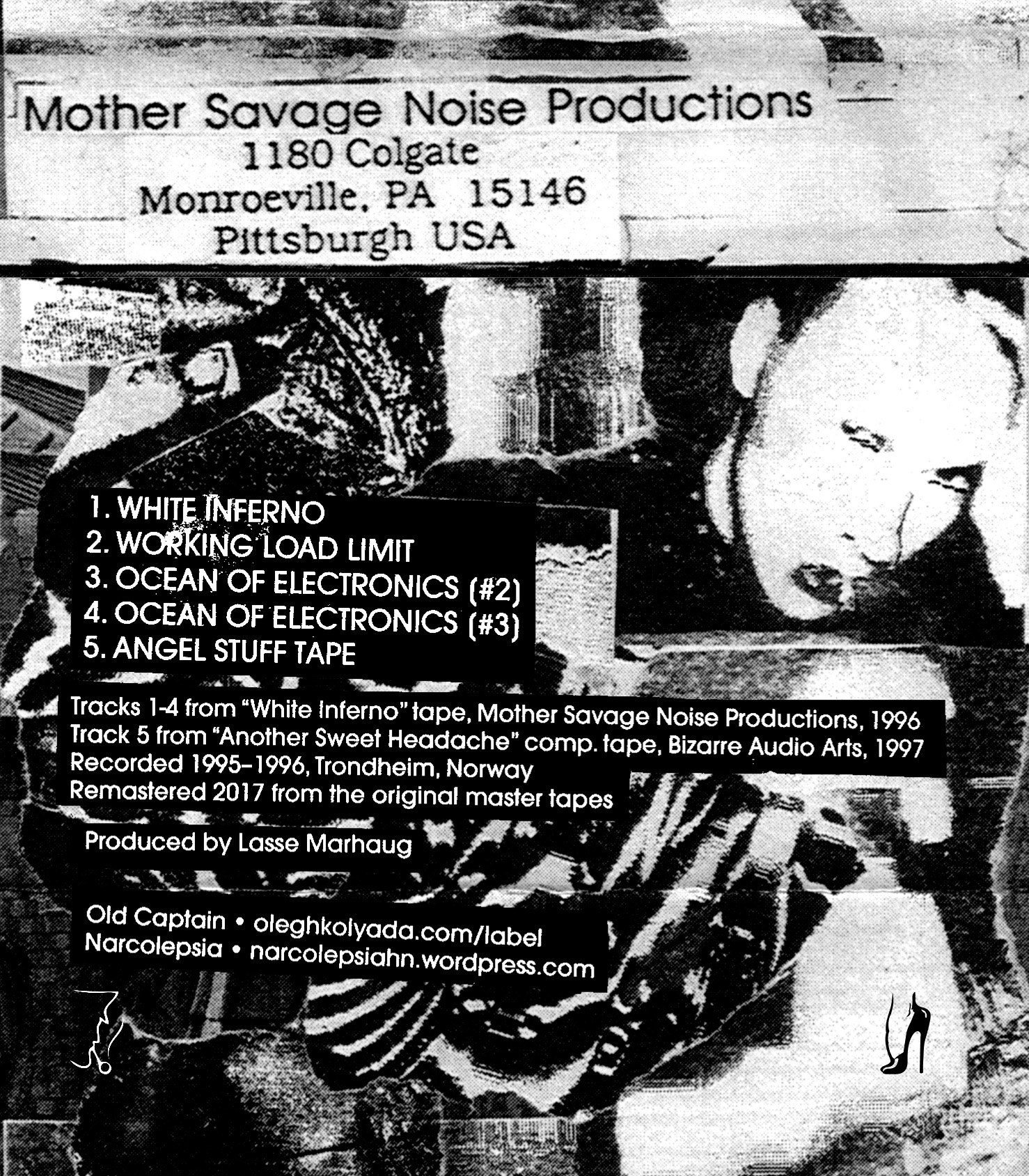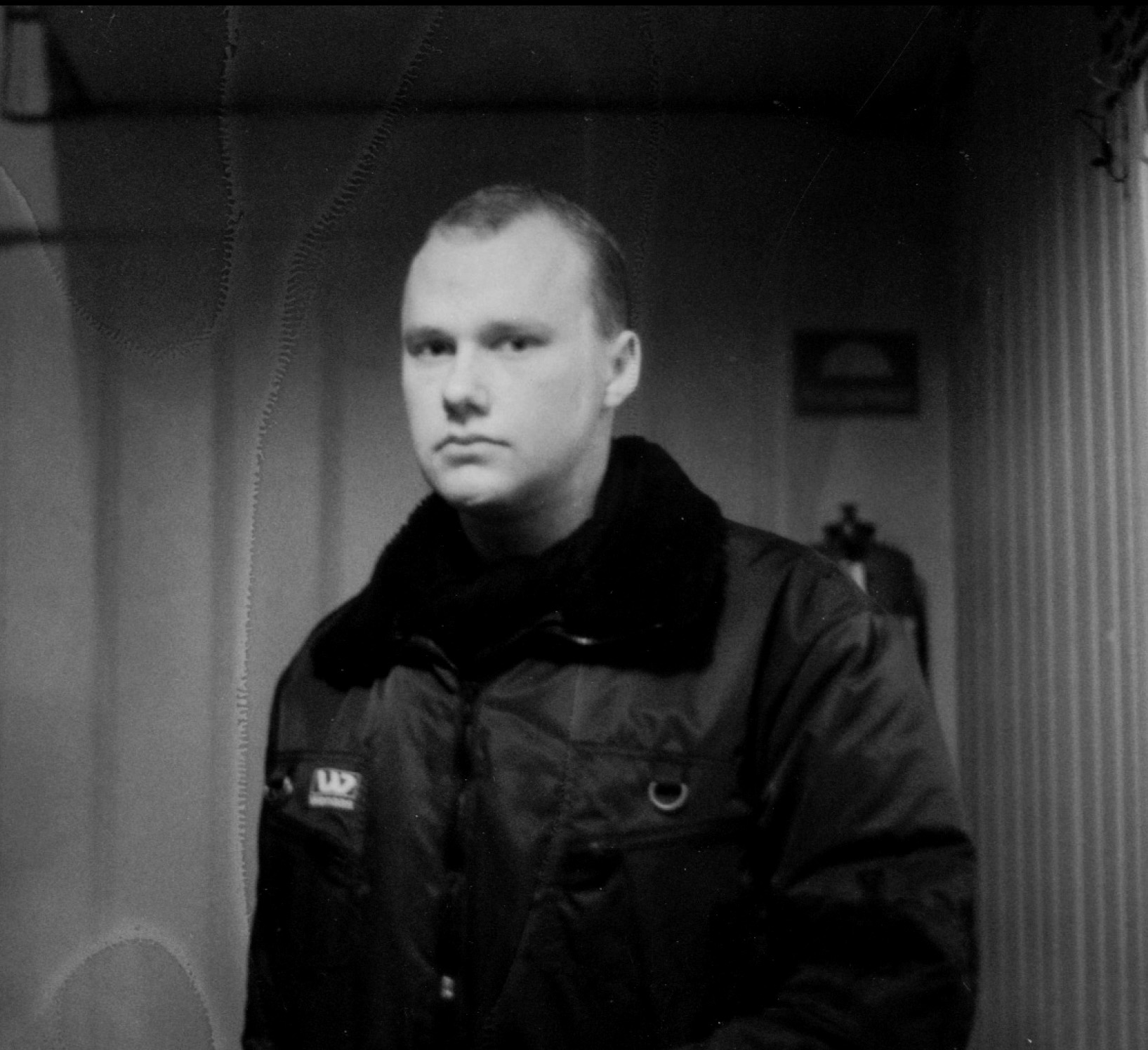 This is what I looked like in 1996. Young and serious about making a racket. And now my past comes to haut me, as Ukrainian label Old Captain Records is reissuing my Mother Savage Noise Productions "White Inferno" tape from 1996. The audio have been taken from the original DAT master tape and remastered. Also included is a compilation track from the same period. The CD is a six-panel reverse board digipak, and I've written liner notes, trying to make sense of it all. Available on CD and digital from this corner of the internet. I also got some copies available.
Some words on the reissue:
During a hellish blizzard in the winter of 1996 Norwegian noise artist Lasse Marhaug locks himself up in his home studio in Trondheim and records the harshest noise of his life. Marhaug's attempt to obliterate the arctic climate with total sonic destruction fails, but the recorded onslaught results in the "White Inferno" cassette, released on Macronympha's Mother Savage Noise Productions label. The material reflects Marhaug's modus operandi at the time: dense analogue tape overload, and could be seen as a more bloody-minded sister-release to his better known "Science Fiction Room Service" album of the same year. Fast forward 21 years and Ukrainian Old Captain Records ask Marhaug to dig out the original master tapes from his mouldy archives and remaster it for a CD release. In the process an obscure piece recorded at the same sessions surfaces, previously issued on an Ecuadorian compilation cassette, but included here as a bonus. So if you wanted to know what Norwegian noise music sounded like 20+ years ago, here it is: "White Inferno", remastered to maximum volume for a new generation of music fans to endure and enjoy. Co-produced with Portuguese finest label, Narcolepsia. 300 copies in a 6-panel uncoated Digipak.
Personal Best #7
August 13, 2017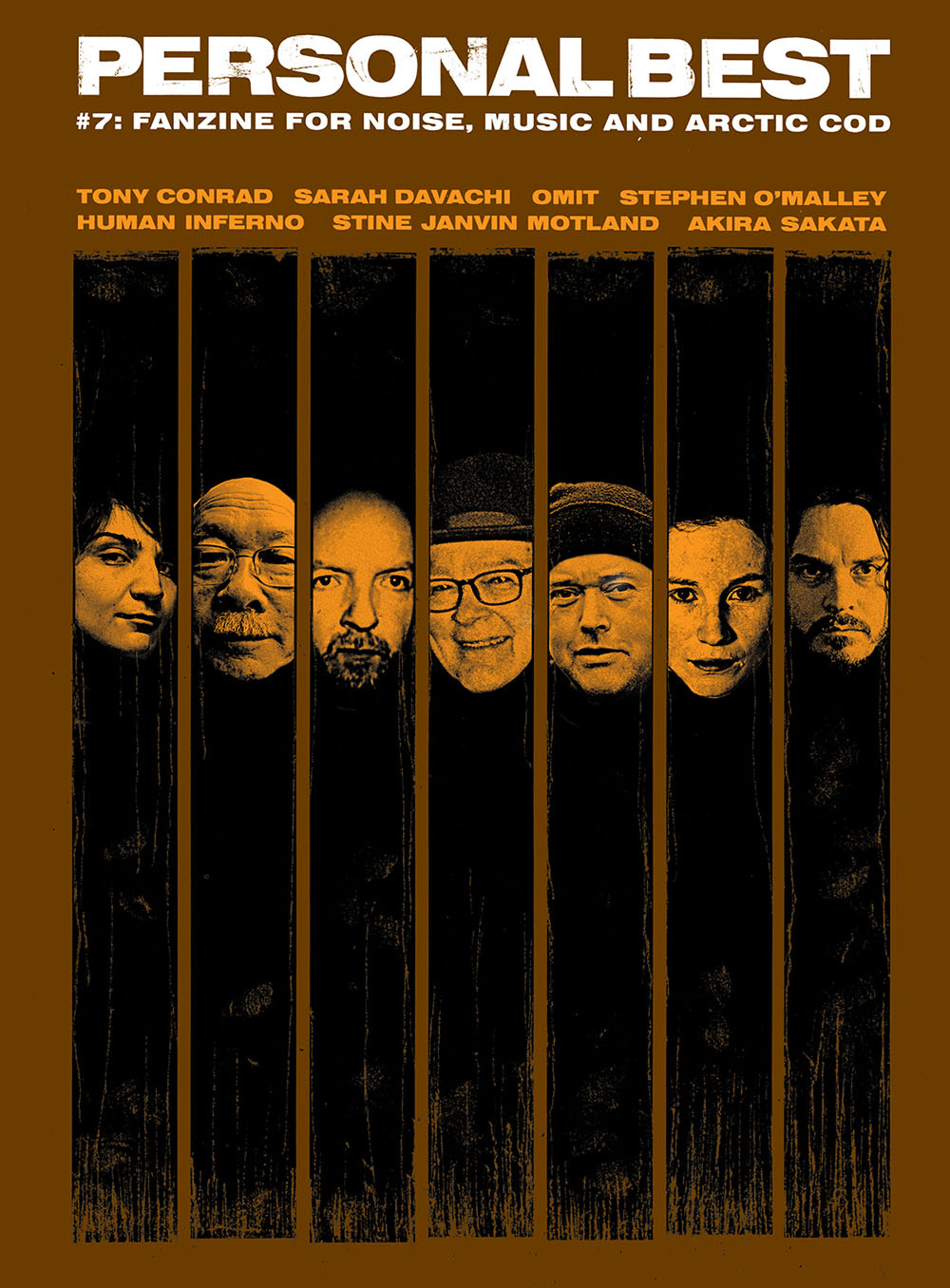 http://marhaugforlag.no/personalbest7.html
Available from Metamkine.
Tapes 1990–1999 now on Bandcamp
June 11, 2017
In 2006 I spent a month digitizing my cassette releases of the 1990s. I released some 50-60 cassettes in my first decade as a noise artist, some of them so limited and obscure I didn't keep copies for myself. Revisiting my early works was a mixture of agony and enjoyment. Errors and misguided experiments were painfully apparent, the sound of my young self in my basement in the north of Norway creating my own version of music I had limited access to or information about. Still, don't underestimate the power of teenage obsessions, and when going through the tapes I realized there were more inspired moments than I remembered, and I started to see the potential for presenting a selection of the material. I eventually narrowed my selection down to what became a 4CD box-set titled: "Tapes 1990-1999". This became the first release on my new label Pica Disk in June 2007. I printed 600 copies, which sold out in about six months, giving Pica Disk a flying start and encouraged me to do more box-sets of noise music (Incapacitants, Kevin Drumm, Government Alpha and Jazzkammer followed – with a couple more on their way). Now on the ten year anniversary of "Tapes 1990-1999" I'm making it available digitally for the first time. €10 on Bandcamp for all 43 tracks (some clocking up to a half hour). The download includes all the artwork and liner notes from the original release (by Tore H. Bøe and Tommy Carlsson, thanks guys). Thanks also due to Tommi Keränen who mastered and lent (much needed) final quality control ears to the material. I still think it holds up, and that some of my best recordings can be found in this collection.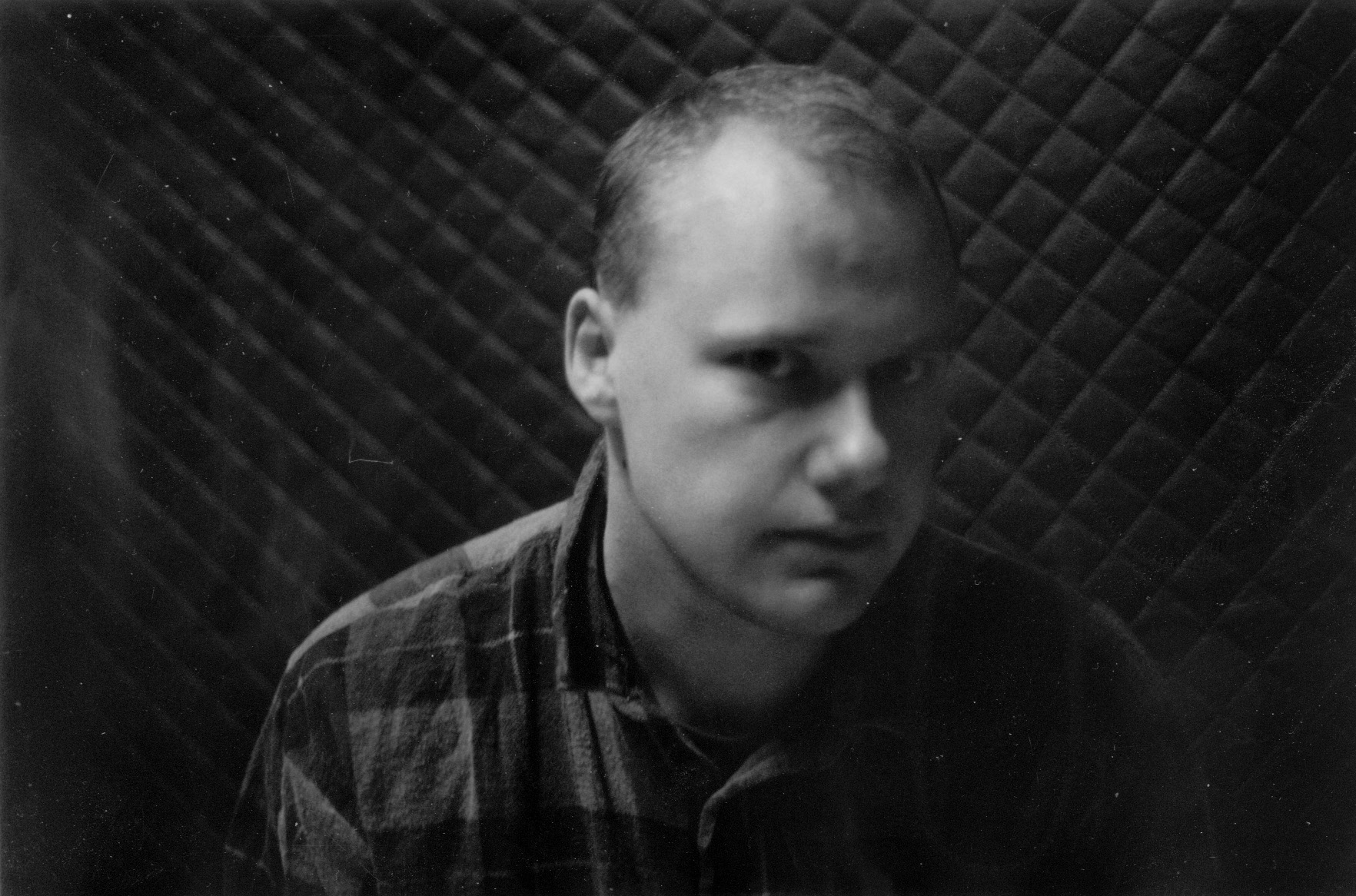 Jazzkammer live in Bremen October 2000
June 7, 2017
Someone recently uploaded a video of Jazzkammer performing live in Bremen in October 2000, which was our first tour outside of Norway. Fun to see, and not a bad racket. Short interview at the end with me and John – the joke of me introducing John as Helge Sten being that in the beginning someone incorrectly wrote that Jazzkammer was a duo of me and Helge Sten, an error that stuck for some time, and subsequently became an inside joke.